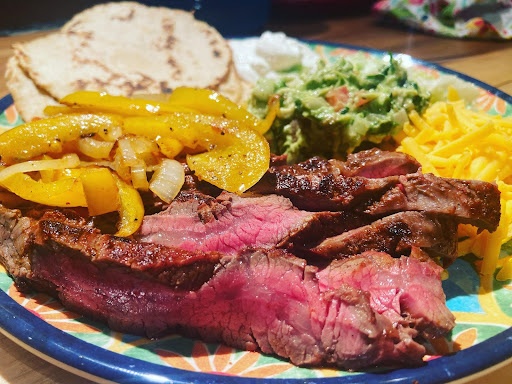 Who doesn't love fajitas!? It's such a fun dish!! I've seen it made many different ways! It's delicious, the sizzle is exciting, and it goes well with a margarita! If you order fajitas at a Mexican restaurant the beef is inside round. It's a cheap cut of beef that doesn't pack a whole lot of flavor. If you order fajitas at a higher end restaurant you will probably get skirt steak, which is traditional for fajitas. Myers' Market can get you skirt or flank steak but if you're making them at home, I'm going to suggest flank steak and I will tell you why. Flank steak is a very lean all-purpose kind of beef. It's good for grilling, roasting, or broiling. Because it is so lean it can be dry and tough if overcooked or sliced too sickly. It's very important to cook flank steak to no more than medium and to slice it thin against the grain. It takes very well to marinade which is awesome for making fajitas and as long as you slice against the grain you will get a tender and flavorful cut. It also tends to run considerably less per pound skirt steak does so it's easier on the wallet leaving you more room to buy margaritas 🙂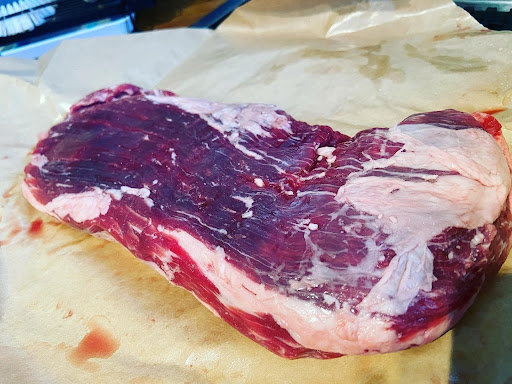 You can see the grain runs left to right so we are going to slice it from top to bottom when it is done cooking but first we marinate!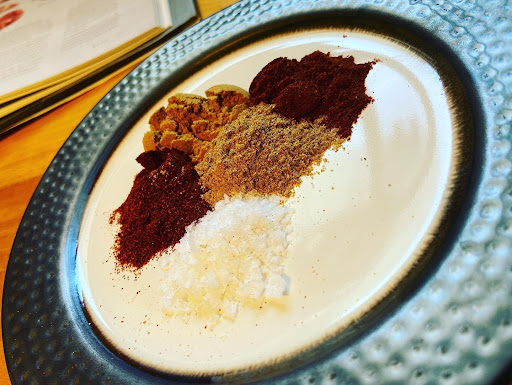 For the marinade, use 1 tablespoon of each of the following spices:
Cumin
Coriander
Ancho or Chipotle chili powder
Regular chili powder
Salt
1- 1 ¼ pounds of flank steak
Using a sharp knife score on the top and the bottom diagonally to create a diamond pattern. Rub and work in the dry spice on the top and bottom side of the meat until completely covered. Placing a large gallon size Ziploc bag (use a vacuum seal bag if you have one, they are fantastic for helping to suck the marinated down into the meat)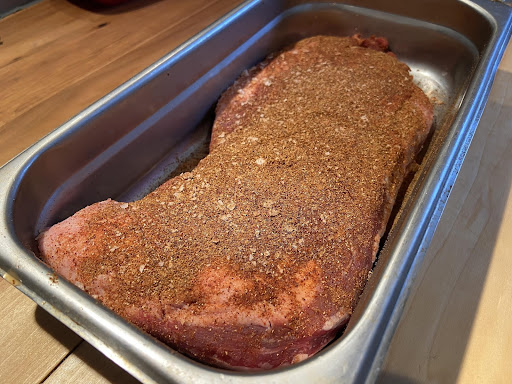 In a small bowl whisk together a
¼ cup of lime juice
2 teaspoons of lime zest
1 tablespoon of Worcestershire sauce
¼ quarter cup of olive oil.
Pour into the bag with your flank steak, seal the bag and work the marinade around so that it coats the steak. Put it on a sheet pan place it in the refrigerator. You're going to let this sit at least 4 hours but let it go for at least 24 hours if you can. You will be able to tell the difference, I promise you.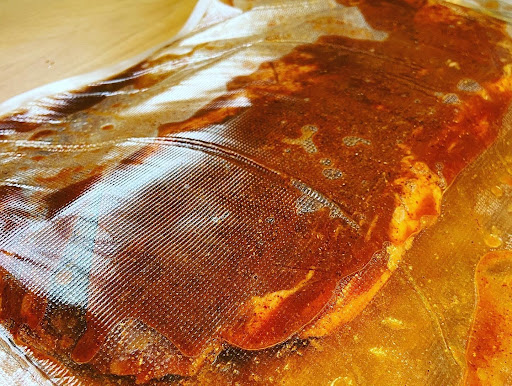 Ingredients
3 teaspoons minced garlic
1 large yellow onion
2-3 bell peppers in assorted colors
1 seeded jalapeño or 1 poblano pepper. Removing the seeds and stem will result in less heat. You will still get the chili flavoring, it just won't burn your mouth.
Flour or corn tortillas. This is going to be your choice. Corn is traditional but I know most people like flower. For a nice touch try searing them in a cast-iron skillet to get them a little brown and black color on both sides.
Assorted toppings i.e. guacamole, sour cream, cilantro, lettuce, or pico de gallo.
Although it's not a must, I'm going to recommend mountains of tortilla chips with some kind of dip and a pitcher of margaritas!
Now we cook!
Please 2 tablespoons of olive oil in a large heavy skillet over medium high heat. Add the onions in and cook stirring until they soften and begin to color for about 4-5 minutes. Stir in the bell peppers and the chili pepper cooking and stirring until they begin to soften or about 3 minutes.
Lower the heat to medium. Add in the remaining garlic and cumin and salt to taste. Stir often until the peppers are nicely seared and beginning to caramelize. About 5–8. At this point, you can add a little water or any marinade you have left over into the pan and scrape with a wooden spoon to be glaze. Remove from the heat and just keep it warm.
Wrap tortillas in foil and warm in a low oven or wrapped in a towel and put them in the microwave for 30 to 45 seconds. This will steam the tortillas and keep them warm and soft
Heat a large cast-iron skillet over medium heat or prepare your grill to medium hot. If using a skillet and it isn't large enough for the steak cut it in half and cook it in batches. If you're using your grill just lay that whole baby on the grate! Cook the meat 4–5 minutes per side. We should be medium rare. Remove to a cutting board, cover with foil and let it sit for 10 minutes. Slice across the grain in ½ to ¾ inch wide strips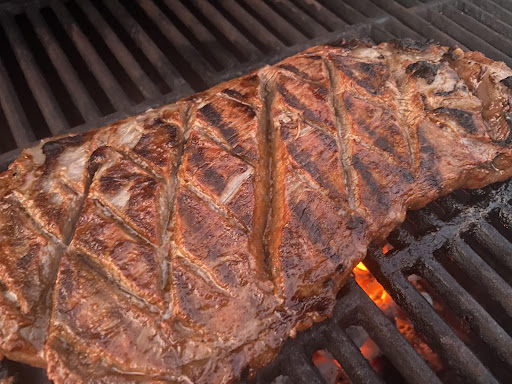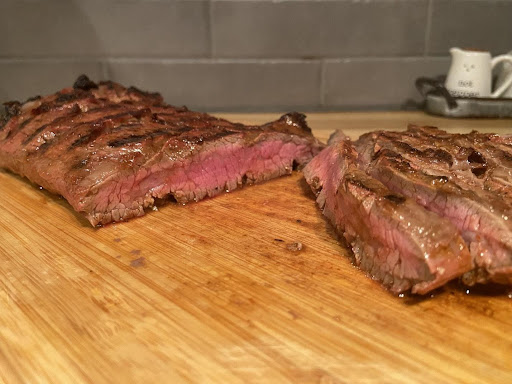 There's not a lot you can do wrong here. As long as you get your beef marinated and you slice the flank steak against the grain you are going to thoroughly enjoy this. In the spring or summer feel free to mix your veggies up based upon what you find at the farmers market. Add in some grilled zucchini and asparagus with chicken for American fajitas. Chop up some fresh heirloom tomatoes and grill with your vegetables for a nice twist. Feel free to experiment and if you come across any good variations, let me know. Also, when you're cooking your vegetables feel free to use that delicious garlic olive oil. Stop by Myers' Market tonight on your way home to get your seasoning, ingredients and your flank steak. Be sure to let them know I sent you and until next time, May your dishes be flavorful and your belly be full.