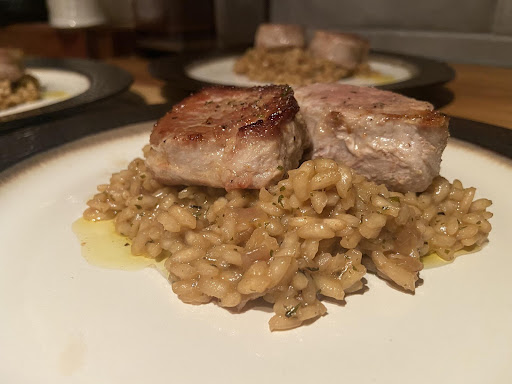 Pork Loin or Pork Tenderloin
What's the difference?
Today we start with a show of hands. Who grew up eating or cooking pork with the fear in their hearts that it might not be completely done? Fried or baked passed tasting good to the point of no return….Dry, chewy and tasteless. In most cases the pork would be covered in a sauce or gravy giving it flavor but not curing the overcooked dryness. Today we are going to discuss this in regards to the Pork Tenderloin and do something just a little bit different. I do hope you will swing by Myers' Market after this and pick up a beautiful pork tenderloin for dinner tonight.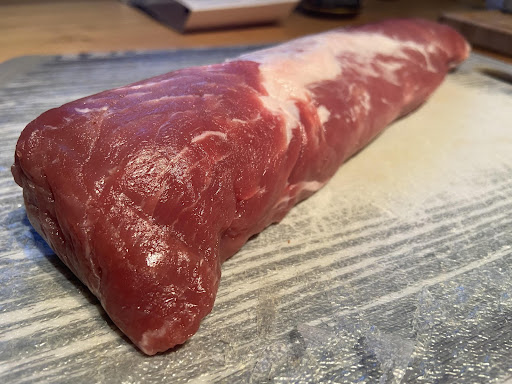 Pork Tenderloin
The Pork tenderloin is the most tender cut of meat from the pig and also the most expensive. That being said, the pricing usually runs between $4-$6 a pound so it's very affordable and when cooked correctly is very delicious! It can be roasted whole or portioned into medallions which is what we are doing today.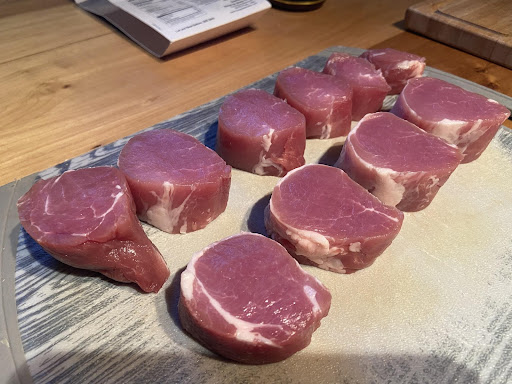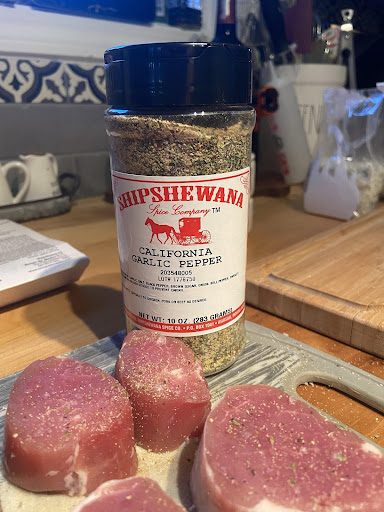 To do this you're simply going to eyeball it, as I like to say :-). As you can see I got 10 of them from the Tenderloin in pretty close to equal portions. They taper down in size from end to end but they are all around ¾-1" thick. This accomplishes two things. The first is that you are going to drastically cut your cooking time down to around 15-20 minutes total making it another wonderful option for a quick and easy weeknight dinner. The second thing is that you're giving the tenderloin a gourmet look and feel similar to scallops or the ALMIGHTY Beef Tenderloin.
The Cook
For this, we are going to do a Hard Sear. This means you are going to cook them in a scorching hot, oven safe skillet (preferably cast iron if you have one). Add a little oil into the pan and let it heat until the oil starts to shimmer, you will know it when you see it but let it go for 1-2 minutes. In the meantime preheat your oven to 300 degrees.
Sprinkle liberally with Shipshewana Garlic Pepper which is a local Indiana spice and yet another delicious ingredient you can get at Myers' Market. There are actually several different ones to choose from I just REALLY like this one! Once the pan is hot, place each medallion seasoned side up into the skillet. Let them go for 3 to 4 minutes, you're basically looking for a hard brown crust to form on the cooked side. This is sealing in the flavor. Once you are where you need to be, turn each medallion over and place into the oven for 8 to 10 minutes. Pick one and check it at eight minutes. If it's at 145° it is done, remove from the oven and let them sit for five minutes. The pork expands when it's cooking while the juices are moving around. Letting it sit lets the juices come to a rest and will make for a way better bite!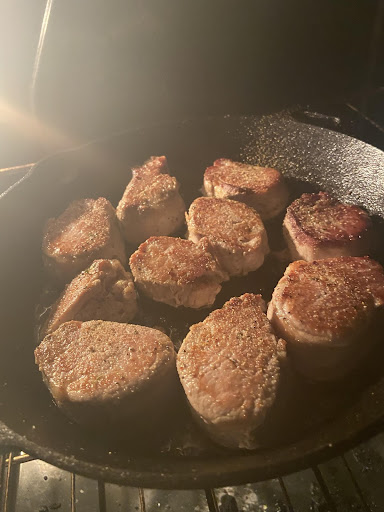 You are ready for dinner! The whole process should take 30 to 45 minutes. When you're ready to plate them, you will see from the photo below that I put them on a black truffle risotto. You could use any kind of rice you like, a long grain and wild rice would be beautiful, also all available at Myers' Market. You could also serve with broccoli or mashed potatoes or whatever seasonal vegetable you have on hand. I even fancied it up a little bit by throwing some scallops I had on my plate to make a surf and turf. I also drizzled with a little bit of that delicious garlic olive oil that you can pick up at Myers' Market.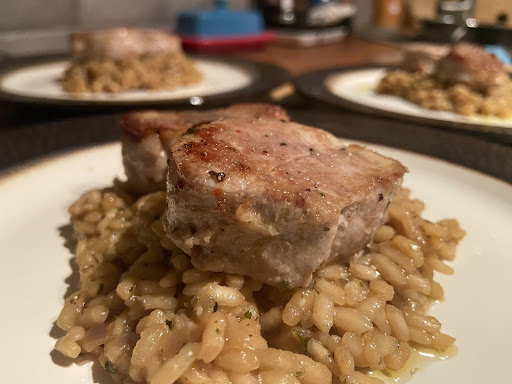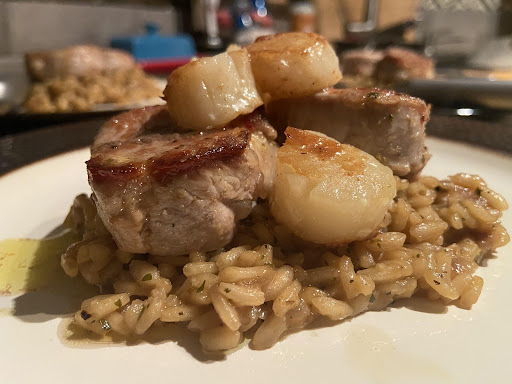 I hope you enjoyed this pork tenderloin suggestion. Don't forget to tell Myers' Market I sent you when you stop by to pick up yours for dinner tonight. Until next time, may all your dishes be flavorful, and your belly be full!