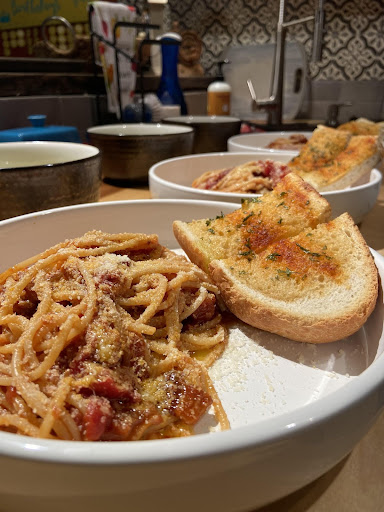 Ready in 30 minutes
Serves 2-4people
We've all heard the phrase "Less is More" and in terms of making this dish nothing could be closer to the truth. It only has 7 ingredients so it is crucial to make sure you are using the best ones you can get your hands on. Now unless you are a food person you have probably never heard of guanciale. It comes from the pork jowl and is considered by many to be essential for making Spaghetti Al' Carbonara. This dish is similar and when you do some searching you will notice that most dishes associated with guanciale are pasta dishes. It can be cured for up to 3 months in a mixture of salt, black pepper, and fennel before being dried under controlled conditions for up to 50 days. It is something normally found in Italian markets, but I have some great news for you! They are making it at Myers' Market, and it is delicious!! When it comes to canned tomatoes, we are in a time where more and more people are wanting high quality ingredients so because of this it has become relatively easy to find Centro products or maybe even La Valle so look for these to get the best results. We will finish this dish with a drizzle of Grand Aroma garlic flavored EVOO for flavor and lucky for you, this can also be found at Myers' Market! It is so nice to have a local market doing fresh meat and local ingredients as well as some nicer products and spices you don't really see anywhere else around town. With that being said let's get started. This dish is quick and easy to make so stop by Myers' Market on your way home and tell them John sent you. Let's get cooking!!
Ingredients
3 ounces (2-4 slices) of Guanciale cut into small pieces or thin strips, whatever you prefer
2-3 Tbs EVOO (Extra Virgin Olive Oil)
1 Small onion (any kind) diced
1 can (450 grams) of good quality Italian whole peeled tomatoes
1 Tbs dried chili flakes
1 Tbs minced garlic
Grated Pecorino Romano cheese
1lb of good pasta.
Preparation
1. Put the guanciale and oil in a saucepan. Turn the heat to medium and heat gently so the guanciale renders some fat and starts to brown. Taste a piece to assess how salty it is. Then, when it just begins to become crisp, add the chopped onion and sauté gently until transparent. The guanciale will put off a lot of fat so you will want to drain some of this off and save for later use if you would like. As a rule of thumb, you need to make sure there is at least 3-5 Tbs left in the pan to sauté the onions and the other ingredients as well as to bind with the tomatoes for the delicious sauce. Add the tomatoes and chili in a continue to cook, then taste for salt (how much you need will depend on the guanciale)
2.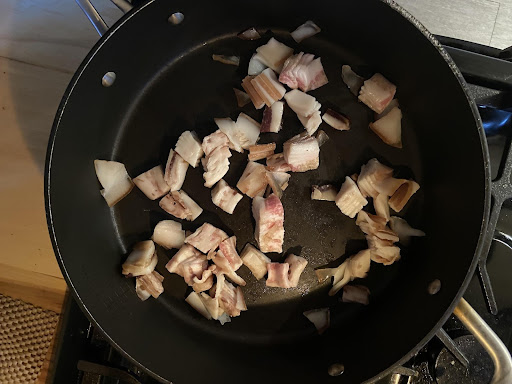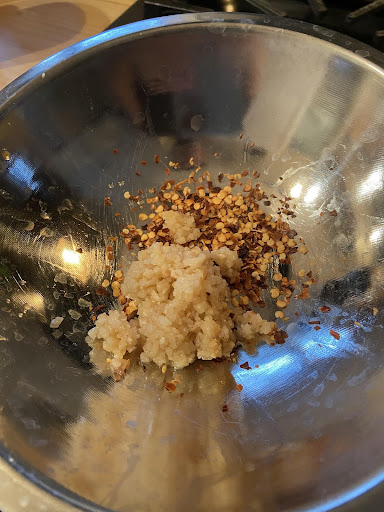 3. Finish cooking the sauce over low heat. You'll know it's done when the liquid has thickened somewhat and the fat shows on the surface, about 20 minutes. There are two photos. The first one is as the sauce starts to cook and the 2nd photo after about 15 minutes. You can see the sauce has started to darken and thicken up and the tomatoes are breaking down
4.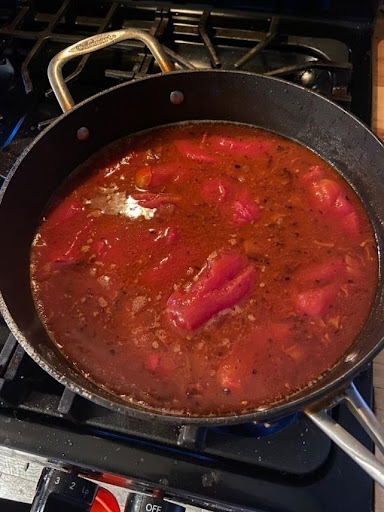 5.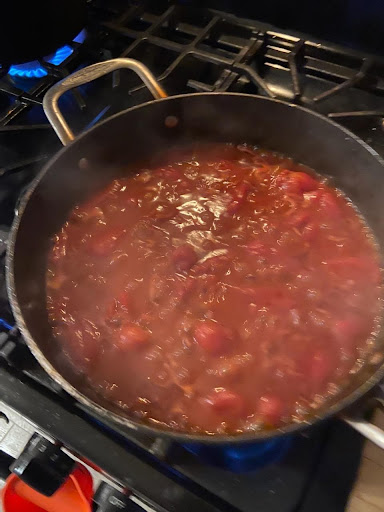 6. Bring a pot of water to a boil in your favorite pasta pot over high heat. Add 3 tablespoons kosher salt, then add the pasta and cook, stirring occasionally, until al dente. You want the pasta to have a little bit to it still because it will continue to cook when you add it back into the sauce but not too much. If it's not al dente you run the risk of squishy pasta, and no one likes that. When it's ready, drain the pasta and add into the pan with the sauce. Toss to coat the pasta, then you are ready to plate.
7.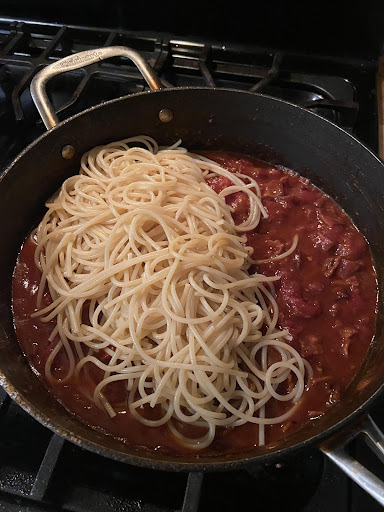 8.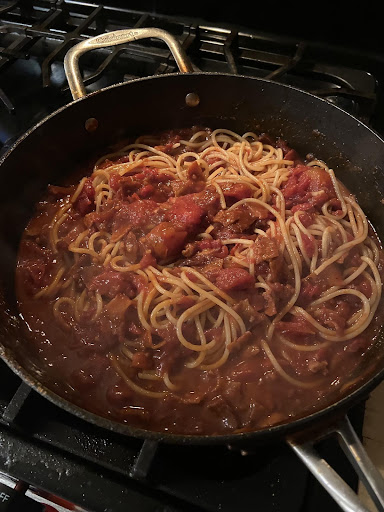 9. Divide the dish evenly amongst 2-4 plates, sprinkle generously with the fresh grated cheese and serve with a nice tossed salad and some fresh garlic bread and drizzle with the garlic flavored olive oil as a beautiful finish. You've just made a gourmet dinner from ingredients you picked up at Myers' Market on your way home, what more could you ask for?!?!
Tips
I truly hope you enjoy this dish as much as we did, and I would love to see your finished product as well as any other tips or suggestions you would do with the guanciale. Don't forget to tell the folks at Myers Market I sent you and until next time, may all your dishes be flavorful and may your heart be full.